Adapt provides clients with fast, reliable professional services from two office locations in the Pacific and Inland NW.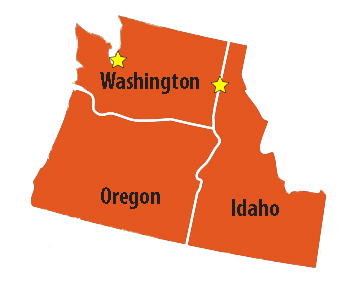 Daryl Petrarca, L.H.G. (President)
Since 1987, Daryl has provided lenders, insurance companies, public jurisdictions, attorneys and regulatory agencies all Phases of environmental assessments and Remediation projects both onshore and offshore. He served as the City of Skykomish  Environmental Coalition Technical advisor from 1996 to 2012. Daryl currently serves on the advisory committee to the State of Washington Department of Ecology Stakeholders Technical Advisory Group for the upcoming changes to MTCA.
K.V. Lew, P.Eng. (Emeritus)
KV has designed, implemented and managed a variety of civil, geotechnical and environmental projects in Canada, the U.S., Malaysia and Antarctica including the remedial investigation, engineering and implementation of environmental cleanup technologies. During the last 40 years, he conducted geotechnical investigations and recommendations for thousands of communication tower foundations and anchorage systems for Western Canada and the national telecommunications companies.
Kurt Groesch (Emeritus)
Kurt is a registered professional engineer in Washington. His experience includes:

Principal and senior geotechnical engineer –

Adapt Engineering 1997-Present

Director of Construction Services – Pacific Tech Laboratories 1996-1997

Regional Vice President – AGRA Earth and Environmental 1990-1996

Vice President & Assoc. Engineer – Rittenhouse, Zemen & Assoc. 1984-1990

Project Engineer – Hart-Crowser & Associates 1979-1984

Geotechnical Engineer – McClelland Engineers 1977-1979


Staff Engineer – Michigan Testing Engineers 1976-1977
Education BS Civil Engineering
Certification P.E.
Technical Specialties
Geotechnical Engineering
Riverbank and Slope Stability
Wetland Habitat Development
Geotechnical Specialty Investigations
Environment Remediation Investigations and Design
Telecommunications Industry Support
John Bhend, L.G. (Environmental Services Manager)
Mr.Bend has over twenty years of experience as an environmental consultant, with a background in managing and performing Phase I and II Environmental Site Assessments, petroleum underground storage tank (UST) closure assessments, and asbestos surveys. He also has experience in managing and performing contaminant remediation feasibility studies, remedial excavation, and site cleanup. In addition, he has provided litigation support for clients involved with cost recovery cases and served as liaison between the client and regulatory community associated with negotiated monitoring and cleanup actions.
Craig Brown, Ph.D.
Dr. Brown has worked in research and development, environmental chemistry, and consulting. He contributed to development of a commercial spectrophotometer and sampling power plant flue gases for mercury species, and was liaison with government funding agencies as a research manager and Principal Investigator. With Adapt since 2005, he has completed hundreds of assessment and compliance reports. Assessment subject properties included manufacturing facilities, multi-family residential sites, gas stations, orchards and cold storage facilities, office buildings, retail stores, and other commercial properties.
Adam Escalona
Mr. Escalona has performed Phase I and Phase II Environmental Site Assessments since 1990. He has been involved with every aspect of these types of projects, from data gathering, to report writing, to client and project management. Mr. Escalona qualifies as an Environmental Professional under ASTM Standard E 1527-13 by having over 20 years of full-time relative experience working in the environmental consulting field and having conducted Phase I assessments for hundreds of properties. Mr. Escalona has been an EPA AHERA Accredited Asbestos Building Inspector since 1990, and has experienced monitoring asbestos abatement projects since 1989.
Jake Frazier, L.G.
Since earning a B.S. degree in Geology in September 2016, Mr. Frazier has been performing Phase I and Phase II Environmental Site Assessments, Environmental Remediation projects, and Geotechnical Engineering Evaluations. He has assisted in providing foundation design recommendations, geologic hazard assessments, infiltration testing in a variety of jurisdictions and geologic settings. He has completed environmental assessments with subject properties including cellular telecommunication sites, residential sites, office, retail, automotive repair shops, and other commercial properties.